Sinan Kasımoğlu
Chairman of the Board
EXPERIENCED INNOVATIVE PASSIONATE
Since the time we took our first steps in the construction sector, validated by our work of forty years, we have been the defender of a determined attitude. Our goal was to leave lasting values for the future. Since the beginning, our aim has been to complete diverse projects on time with high quality without being limited by norms, without being repetitive and by constantly improving and reinventing ourselves.
Building is a family tradition. I took over the flag from my grandfather and father who had been involved in different parts of the industry. In forty years, we have focused on realizing distinguished projects of well-known architects. We built a wide range of structures from residences to factory buildings, from hospitals to hotels and historical buildings. With our hard work and effort, we have been acknowledged as "the quality contractor of quality projects." Whether we create a space for commercial use or build a home, we have adopted the idea of "making a difference". We know that buildings are an important part of quality life. The structures we have built, with their design and application technique, represent this forty-year life period. This fact has always motivated us and guided us in our work.
From our architects to our engineers, from our technicians and foremen to our driver, all members of Siska are doing their jobs with the purpose of being happy. We love projects that make us happy. Architecture and engineering is a part of our everyday life. We take joy in every project we undertake as if we are building it for ourselves.
While working in the sector with this passion, we have also become a defender of its deeply rooted culture. The crucial master and apprentice relationship was recognized and brought to life as the basic doctrine of profession and life in Siska. I think this is the essence of architecture and engineering and Siska has proved itself as an institute reflecting this culture for 40 years.
We have always believed and trusted that our young friends who come after us will be even more successful than we are. For this, we have worked hard through the years and today new generations take on important roles in every level of Siska. We are proud and pleased by this.
All that we have produced in the last forty years has been achieved by the effort and care of all our employees. The belief and the trust of our valued employers have brought the Siska Family to today. Rising on this strong foundation and the experience of forty years, we are now looking at the future in a more powerful way.
Sinan Kasımoğlu
Chairman of the Board
Ankara University
Faculty of Political Science
Department of Economics
Kabataş High School
Pınar Kasımoğlu

Tufts University
Bachelor of Arts in Economics and International Relations
London School of Economics
Master of Science in Real Estate Economics and Finance
La Salle College
Interior Architecture
Esin Eştürk

Architect
Restoration and Transformation Projects Supervisor
İstanbul Technical University
Faculty of Architecture
Emre Susam

Architect
Project Manager
Yıldız Technical University
Faculty of Architecture
Kaan Tamtürk

Civil Engineer
Technical Office Manager
İstanbul Technical University
Faculty of Engineering
Mahmut Hoşafçı

Civil Engineer
Project Manager
Eskişehir Osmangazi University
Faculty of Engineering
Ekrem Taştanoğlu

Head of Purchasing and Administrative Affairs
Sedat Arat

Head of Accounting and Financial Affairs
Tuğba Güzelkaya

Head of Human Resources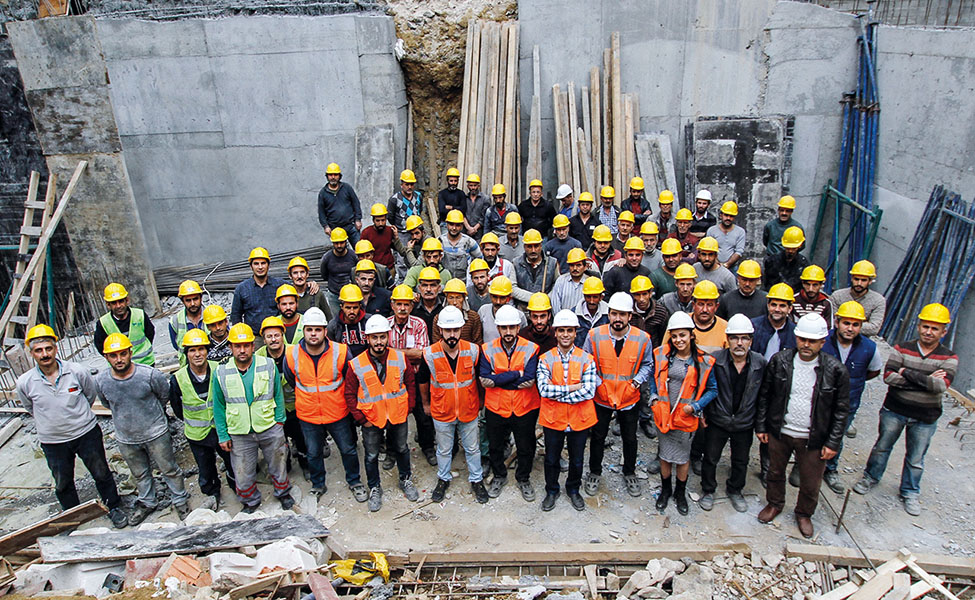 Our Employees in the 40th Year
Ahmet Varol
Aytek Şahbaz
Barış Sarıkaya
Barış Tadal
Bekir Değirmenci
Binnaz Kalcıoğlu
Buket Gökçe
Burak Yar
Can Doğan
Celal Taş
Ceren Araz
Efrasim Çolak
Ekrem Taştanoğlu
Elif Demirel
Emre Susam
Enver Şalk
Esin Eştürk
Eyüp Erçin Sağır
Eyüp Gülbaş
Gökhan Yaroğlu
Gülşah Seyrekbasan
Hülya Yolcu
Hüseyin Ülker
Kaan Tamtürk
Mahmut Hoşafçı
Melisa Yıldız
Mert Zincirci
Musa Özer
Mustafa Yılmaz
Ömer Can Dirim
Onur Taştan
Reşit Kerem Kıpçak
Sebahattin Atlı
Sedat Arat
Sedat Hakan Esen
Sefer Bedir
Selin Birgül Geçer
Sinan Türk
Tuğba Güzelkaya
Tuğçe Kervan
Tuncay Ağdoğan
Zeynep Hande Aksaman
ve Pofu
Our Consultants
Kenan Özsaraç YMM
Erhan Özdemir YMM
Av. Sevtap Kasımoğlu
Damla Kasımoğlu
Recep Ortataş
Zeki Kar
SİSKA İNŞAAT TAAH. MİM. VE MÜH. A.Ş.  HEDEFİ; Yüklendiği işleri kriterlere, yürürlükteki mevzuat, şartname ve standartlara uygun olarak, öngörülen sürede kaliteli, çevreye duyarlı, mesleki sağlık ve güvenlik şartlarını göz ardı etmeden, karlı bir şekilde gerçekleştirmektir.
SİSKA İNŞAAT TAAH. MİM. VE MÜH. A.Ş. YÖNETİM SİSTEMİNİN AMACI; yürürlükteki kanun ve yönetmelikler çerçevesinde, çevre, mesleki sağlık ve güvenlik ile ilgili tehlikelerin tanımlanması, gerekli risk analizlerinin yapılarak tehlikeyi kaynağında önlemek ve sürekli olarak çevre, can ve mal güvenliğini tehlikeye atabilecek durumları minimize ederek çevrenin korunması, kirlenmenin önlenmesi ve kalite, çevre, mesleki sağlık ve güvenlik yönetim sistemlerinin sürekli iyileştirilmesidir.
SİSKA İNŞAAT TAAH. MİM. VE MÜH. A.Ş.  ÜST YÖNETİMİ; Bu amacı gerçekleştirmek üzere,
QUALITY POLICY
SİSKA İNŞAAT TAAH. MİM. VE MÜH. A.Ş. olarak tüm çalışanlarımızın katılım ve gayreti ile paydaşlarımızın ihtiyaç ve beklentilerini karşılamak için projeler ve hizmetler gerçekleştirmek,
Yurt içi ve yurt dışı pazarlarında kaliteyi arttırmak için gerekli olan hizmet faaliyetlerini gerçekleştirmek,
Çevresel faktörleri ve iş güvenliği kurallarını göz önünde bulundurarak kalite yönetim sistemi şartlarına uymak ve sürekli iyileştirmeyi sağlamak,
Kalite standartlarımızı en yüksek değerlerde tutarak ve yasal gereklilikleri yerine getirerek, uluslararası ve ulusal standartlara uygun hizmetleri yaparak öncü bir şirket olmak,
Mevzuatlar çerçevesinde hizmet tesis ederken gerek personelimizin gerekse yararlanıcılarımızın memnuniyetini en yüksek seviyeye taşımak,
Çalışanlarımızın sunduğu hizmetin kalitesini arttırıcı ve kişisel becerilerini geliştirici eğitimler almalarını sağlamak,
Müşteri ihtiyaçlarını ve uygulanabilir birincil ve ikincil mevzuat şartlarına uygun olarak karşılanmasını sağlamak,
Hizmetlerin sunumunu ve uygunluğunu etkileyebilecek risk ve fırsatlar ile müşteri memnuniyetinin arttırılması sağlamak,
Müşteri memnuniyetinin arttırılmasını ve sürdürülmesini sağlamak,
Toplam kaliteye en ekonomik, en hızlı ve en kısa yoldan ulaşarak hizmet ürettiğimiz tüm kesimlerin güvenini kazanmak, bunu sürdürebilmek ve sürekli iyileştirmek hepimizin en önemli görevidir.
ENVIRONMENTAL POLICY
SİSKA İNŞAAT TAAH. MİM. VE MÜH. A.Ş.' de çalışılan her kuruluşun çevre politikamız doğrultusunda faaliyet göstermesini sağlamak,
Çevre hedeflerimiz doğrultusunda iklim değişikliğinin azaltılması, çevre kirliliğinin önlenmesi, çevre bilincinin arttırılması ve yaygınlaştırılması amacıyla inşaat sektöründe öncü olmak,
Faaliyetlerimiz sırasında yasal mevzuatları takip etmek ve sürekli iyileşme prensibine göre sistemimizi geliştirmek,
Doğal kaynaklara ve çevreye verilen etkinin en aza indirilmesini sağlamak,
Çevreyi korumak ve kirletmemek için mevcut olan en ileri teknolojileri kullanmak,
Sürekli iyileştirme prensibine göre hareket etmek.
OCCUPATIONAL HEALTH AND SAFETY POLICY
Ulusal ve uluslararası kural ve uygulamalara uygun olarak verilen hizmetlerin emniyetli işletilmesini sağlamak,
Kazaları analiz edip kök nedenlerini belirleyerek ve prosedürlerin geliştirilmesini sağlayarak, operasyonel gelişimin devamlılığı ile "Sıfır Kaza" hedefine ulaşmak,
Yaralanmaları ve sağlık bozulmalarını önleyerek, İSG yönetiminin ve İSG performansının sürekli iyileştirilmesini sağlamak,
Sağlık ve emniyet kurallarına uyulmasını sağlayarak, fiziki yaralanmayı ve can kaybını önlemek, gerekli personel eğitimlerini vermek,
Yönetimin performansını değerlendirmek ve sistemi devamlı güncelleyerek standartları en üst seviyede tutmak,
Tanımlanmış olan tüm risklere karşı gerekli önlemleri almak, alınan önlemleri değerlendirmek ve gerekli değişiklikleri yapmak,
Acil durum müdahale planı oluşturmak, gerekli insan kaynağını ve diğer donanımları devamlı olarak hazır bulundurmak, revize etmek ve planlı/plansız olarak tatbikatlar yapmak, tüm personelin tatbikatlara fiilen katılmasını sağlamak.
Chairman of the Board
03.07.2017
PLT.00/R.00